Produce Aisle:
Approximately the size of a head of cauliflower (16 in & 2.5 lbs)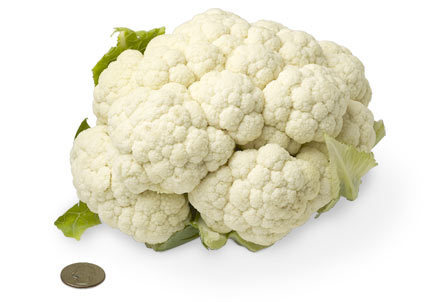 Maternity Clothes:
No new maternity clothing updates. Just a pair of pants that no longer fit! I picked them up from H&M awhile back and thought they would last, but my growing belly is pushing them down. Ugh! I never thought I'd outgrow any of my maternity clothes!
Stretch Mark:
They're starting to grow a little more. I guess it's to be expected. I was hoping I was in the very small percentage of women that don't get them!!!
Belly Button In or Out:
Still in, but getting really flat!
Sleep:
So blessed to still be sleeping without any issues!
Best Moment of the Week: There are two things this week! I passed my glucose test with flying colors!!! And reading to Dayton and him reacting with little kicks. It's the sweetest thing ever! I found this little book online and apparently he loves it! I'm a huge fan of Seuss and his book, Oh, the Places You'll Go! This is a compilation of many of his books and designed to be read to your baby while he or she is cooking.
Movement:
D's movements are getting more and more frequent and seem to be in reaction to hearing things or me turning on a light. It just amazes me that he can react to what's happening in the outside world!
Food Cravings:
Still no crazy cravings. I was kind of hoping to crave something off the wall like pickles & ice cream!
Gender:
Our little buddy has been receiving some of the cutest outfits and even a pair of shoes! I gushed about this little pair of Pumas on Instagram and Facebook, but had to share them here, too!
What I miss:
Shaving my legs and putting on boots is getting more and more difficult! Sigh. Life before a belly was much easier!
What I'm looking forward to:
Getting the nursery ready and gear purchased!
Symptoms:
No new symptoms have surfaced other than this belly just continually growing!
Emotions: This week my emotions have been pretty steady!
Prayer (we are praying a whole host of things, including scripture, over this pregnancy and our Peanut every day -I thought I would share one from our list each week):
We pray wisdom and calmness over the staff at the hospital, our midwife and any doctor that might aid in D's delivery.